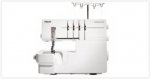 hobbylock™ 2.5 – Discover the secret of a perfect finish
The exceptionally sturdy and reliable PFAFF® hobbylock™ 2.5 machine offers an automatic system for thread tension that makes it easier to get the right setting with a precise stitch result.
Perfectly even seams
... thanks to Differential Feed! Two rows of feed dogs eliminate stretching or puckering of seams. Create beautiful waves or gathers by adjusting the Differential Feed settings!
Threading quick & easy!
Colored threading paths are marked on the machine to make threading easy. Included with your purchase is an interactive DVD that clearly shows threading, step-by-step. Also available on the Internet!
Add attractive accents
The PFAFF® hobbylock™ 2.5 overlock machine has a decorative side! Overlock decorative details on casual sportwear, sassy summer tops, and more to create interesting effects.

Add attractive accents with the three-dimensional flatlock stitch – a real eye-catcher. Or give it even more appeal with colored decorative thread. Use a classic rolled hem to give fashionable accessories of the sheerest silk or chiff on an elegant finish.

Let yourself be inspired. Discover the fascinating variety of stitches offered by the PFAFF® hobbylock™ 2.5 overlock machine.
Overlock Features!
Large area to the right of the needle ~ More space for your projects.
15 Stitches ~ Trim, stitch, overcast and embellish projects in half the time.
4-thread overlock ~ Reinforced overlock stitch for perfect sewing, trimming and finishing.
3-thread overlock ~ Wide and narrow overlock seams and decorative techniques.
2-thread overlock ~ Rolled edge and flatlock, wide and narrow.
Built-in rolled edge ~ Sew rolled hems quickly without changing the presser foot or stitchplate.
Automatic Tension Dial (ATD) ~ Automatically sets the thread tension when selecting any stitch.
Adjustable settings ~ All settings can be adjusted for special fabrics and techniques.
Tension release ~ Threads pull easily when presser foot is up.
PFAFF® Design ~ Built to make sewing easy and to achieve the professional results that the sewer wants.
Differential feed ~ Adjustable for perfectly even seams, no stretching of knits or puckering of fine fabrics.
2 Speed ~ Easily adjustable when you want more precision for different techniques.
Lay-in tension and color coded thread paths ~ For quick and convenient threading.
Adjustable stitch length, cuttingwidth and presser foot pressure ~ Choose optimal settings for different fabrics and techniques.
Extra presser foot height ~ Room for several layers or heavy fabrics.
Electronic piercing power ~ Stitch-by-stitch control with full piercing power at all speeds.
Universal Standard presser foot ~ Can be used with all built-in stitches.
Snap-on presser feet ~ Easy to change to optional feet for specialty techniques.
Movable upper cutter ~ Disengage the cutter for special techniques.
Upper cutter mounted from below ~ Convenient when threading. No need to disengage
Built-in two-thread converter ~ Easy conversion to 2-thread stitches.
Easy threading instructions ~ Step-by-step interactive DVD.
Thread cutter ~ Conveniently placed for quick cutting of threads.
Built in extended carrying handle ~ Move the machine without tangling the threads.
Waste tray ~ Catches fabric trimmings.
15 stitches means a professional finish on every fabric!
Velvet, wool, terry cloth, silk, denim, cotton or stretch fabrics – the PFAFF® hobbylock™ 2.5 overlock machine has the right stitch. Perfectly finished edges with seams that stretch when you move. The PFAFF® hobbylock™ 2.5 overlock machine is perfect for creating custom active-wear fashion.